Control Bearings
MKP Precision Series
Radial Type
MS27640. MIL-B-794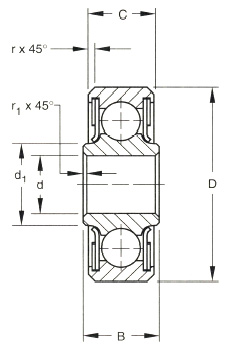 Bearing

Number

MS

27640

Dash No.

Bore

Outside Diameter

Widths

d

D

B

C

+0.0000,-.0003
+0.000,-.008

+0.0000,-.0004
+0.000,-.010

+0.0000,-.0025

+0.000,-.064

+0.000,-.005
+0.00,-.13

in.

mm

in.

mm

in.

mm

in.

mm

MKP3

-3R

0.1900

4.826

0.7774

19.746

0.297

7.54

0.270

6.86

MKP4

-4R

0.2500

6.350

0.9014

22.896

0.484

12.29

0.335

8.51

MKP5

-5R

0.3125

7.938

1.2500

31.750

0.558

14.17

0.375

9.52

MKP6

-6R

0.3750

9.525

1.4375

36.512

0.620

15.75

0.469

11.91

MKP8

-8R

0.5000

12.700

1.6875

42.862

0.620

15.75

0.500

12.70

MKP10

-10R

0.6250

15.875

1.9375

49.212

0.620

15.75

0.500

12.70
Bearing

Number

d 1

r 1

r

Wt.

Radial
Limit 
Load
Rating

Thrust
Limit 
Load
Rating

Approx.

+0.015,-.000

+0.38,-.00

+0.015,-.000

+0.38,-.00

Approx.

in.

mm

in.

mm

in.

mm

lbs

.kg

lbs.

N

lbs.

N

MKP3

0.331

8.41

0.005

0.13

0.022

0.56

0.03

0.014

1880

8300

900

4000

MKP4

0.387

9.83

0.005

0.13

0.032

0.81

0.04

0.018

2680

12000

1200

5300

MKP5

0.469

11.91

0.015

0.38

0.032

0.81

0.09

0.041

5620

25000

2500

11200

MKP6

0.591

15.01

0.015

0.38

0.032

0.81

0.15

0.068

7910

35500

3500

15600

MKP8

0.752

19.10

0.015

0.38

0.044

1.12

0.21

0.095

11810

52000

5200

23200

MKP10

0.850

21.59

0.015

0.38

0.044

1.12

0.28

0.127

14100

63000

6200

27500
+ Single row, ball, heavy duty.
+ Equipped with Teflon seals.
+ Exposed surfaces except bore, cap, and seals are cadmium plated.
+ Prelubricated.
Note: These bearings should not be used as track rollers, cam follower rolls, and the like.
* Check for availability
Resources
our mission

Our engineers are the best in the industry. We work directly with our OEMs and Bearing Distributors. Our engineers can help you with bearing, shaft and housing tolerances as well as semiconductor applications, cryogenic applications, extreme hostile environments, and extreme delta T temperatures environments.

Core Values

We have one of the largest bearing inventories in the U.S. We stock other manufacturer's bearings. We distribute bearings for extreme high temperature. We will ship all bearing orders the same day for less than any other advertised price.

Certifications

AS9100C and ISO 9001:2008 Certified -Aircraft Bearings enforces a rigorous quality control program to insure that each bearing shipped is made to the highest quality standard. Our goal is to meet and exceed application requirements and customer demands.
CAPABILITIES
We carry
Aircraft Bearing is one of the largest stocking distributors in the world of bearings and bushings for Aerospace applications. Our inventory and experience providing solutions to elite aerospace manufacturers is second to none. Aircraft Bearing stocks bearings for airframe control, hydraulic actuation, pump, APU, electrical actuation, guidance, avionics, engine mount, bleed-air valve, defense system, UAV, and assembly applications.
In addition to bearings, Aircraft Bearing also stocks a range of bearing installation, swaging, and proof load testing tools approved for aerospace applications.
We can help design/manufacture any bearing. We stock other manufacturers: Barden, Fafrir, MPB, SKF, Kaydon, FAG, ND, KOYO, NSK, RMB, KBC, SMT, GMN, etc.

Affiliated with
who we are
We are uniquely positioned to provide OEM's and Distributors a full range of engineered solutions in addition to stocking thousands of bearing and bearing related products to cost-efficiently and consistently provide just-in-time delivery.
Our quality is ranked #1 by bearing distributors and OEM's. Our Physical Vapor Deposited Coatings (PVD), Ceramic Balls and Moly/PTFE retainers give you the longest lasting best performing bearings in the industry.

OVERNIGHT DELIVERY.
Allow us the opportunity to use our expertise to solve your toughest bearing applications. Please consider us first for your bearing needs as well as all custom bearing requirements.